The most popular concrete driveway finishes available nowadays are plain, stencilled, coloured, stamped, exposed aggregate, and brush-finished. Each of them will look different and provide unique functional benefits.
Our experts at Complete Concrete Frankston recommend that people learn about the various concrete finishes they can use on their properties. This will help you make the right decision for their new driveways.
This blog will explain what each concrete driveway finish mentioned above has to offer.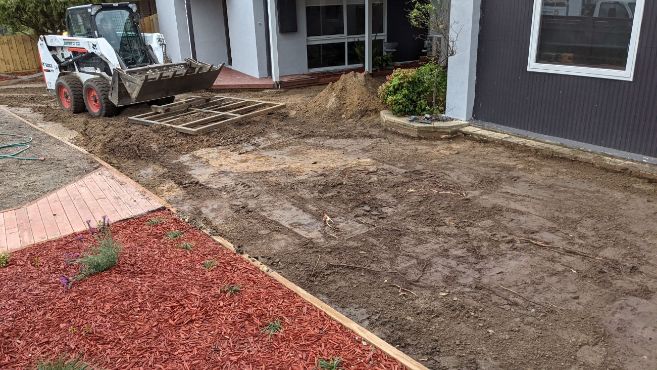 Plain Concrete
The most common type of concrete driveway finish is plain. It's the most cost-effective option and is popular because of its easy installation and minimal requirements.
Many homeowners choose a plain concrete driveway finish because it's also easy to maintain. Concrete driveways that are installed by an expert can last for decades with proper sealing and maintenance.
Coloured Concrete
Coloured concrete driveway finishes rely on pigments and stains to add colour to the surface. These pigments are combined into the concrete mixture before being poured, resulting in an even spread.
As for the stains, concreters apply these on the surface of cured concrete directly. Such an approach allows them to have better control over their designs.
Stencilled Concrete
Stencilled concrete driveways are the type of finish that uses a stencil to create patterns on the surface. Installers apply a stencil directly on wet concrete so they can develop unique designs.
A stencilled concrete driveway finish is closely related to stamped concrete, except it uses a stencil rather than a stamp to apply its patterns.
Stamped Concrete
Another decorative finish that is intended to mimic the appearance of natural materials like stone and brick is the stamped concrete driveway finish. By way of a stamping process, concreters will develop stamped concrete patterns and textures on the surface based on what a client is looking for.
Stamped concrete finishes are popular because they can be designed to look just like natural stone. You also have numerous design options to choose from.
Exposed Aggregate Concrete
Exposed aggregate is another concrete driveway finish that is quite in demand nowadays. This type of concrete finish undergoes a process where its topmost layer is removed to expose the combination of gravels or stones within.
Exposed aggregate is popular because it provides a non-slip surface with a unique appearance. However, you'll need to maintain an exposed aggregate driveway constantly to make it last.
You can learn more about the pros and cons of exposed aggregate here.
Brush-Finished Concrete
A brush-finished concrete driveway is one wherein its surface is brushed as soon as the concrete has been applied. It's designed to create a rough surface that's also slip-resistant.
Concreters apply the design by using stiff-bristle brushes on the concrete surface while it's still wet. Like a plain concrete driveway finish, brushed-finished concrete is easy to maintain and affordable.