Yes, coloured concrete is worth getting for your home. People who desire a visually appealing and aesthetically interesting property can invest in coloured concrete.
If you have a big driveway or concrete patio, you may consider making its design unique by incorporating colour. Many concreters in Frankston receive requests to use coloured concrete to imitate textured paths or natural surroundings. It adds beauty to properties and is also relatively cost-effective.
In this blog, we'll give you an overview of how coloured concrete is produced, its benefits, and the various areas of a property where it can be used.
How is Coloured Concrete Made?
Coloured concrete is made by brushing a concrete surface with dry pigment or by mixing it beforehand. The particles of pigment used for colouring concrete are usually smaller than those in cement, enabling concreters to add them to the cement mixture. Iron oxide pigments are commonly used for colouring concrete.
Dusting dry pigment is usually easier to carry out, but the final result may be easily removed and the dye may not be long-lasting. In contrast, mixing the pigment may take longer, but it generally produces excellent results.
If you're interested in understanding the difference between concrete and cement, be sure to read our blog on the subject.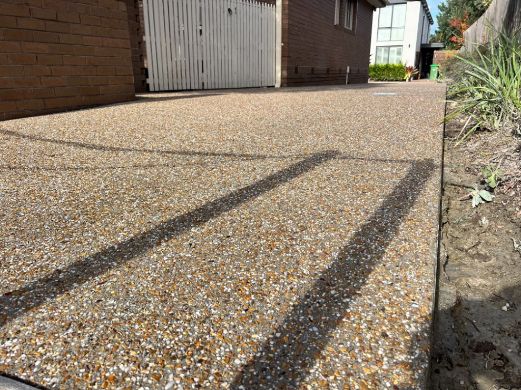 Reasons to Use Coloured Concrete
These are the main reasons why people today use coloured concrete:
Flexibility
Coloured concrete can be used in a variety of indoor and outdoor applications and can be easily tailored to match the existing design or colour scheme of a property. There are also a range of textural finishes to choose from. This makes it exceptionally adaptable in matching current designs.
Boost Property Value
Investing in coloured concrete can add visual interest and appeal to a property, increasing its value. This makes it a desirable feature that prospective buyers will look out for. If you're considering selling your home in the future, coloured concrete may be a worthwhile investment.
Sustainability
The materials used in coloured concrete are environmentally friendly and sustainable, and it is often made from locally sourced materials. Coloured concrete is an excellent choice as it is long-lasting and can last for many years. It will also require minimal maintenance throughout its lifetime.
Aesthetic Appeal
One of the key advantages of opting for coloured concrete is the visual enhancement it can bring to your home. This distinct type of concrete is widely sought after by property owners who aim to enhance the look of their pathways, patios, and driveways.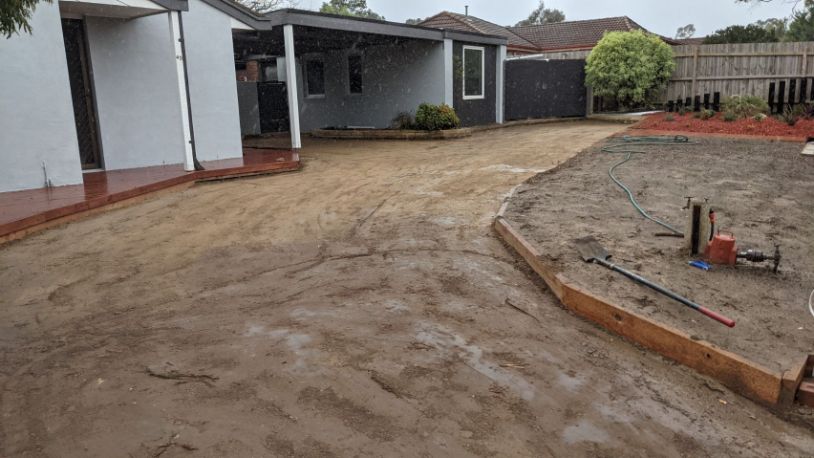 Where Should I Place Coloured Concrete?
You can use coloured concrete to highlight specific areas of your property where you want to make a statement. Although it's more expensive than stencilled concrete, coloured concrete offers greater versatility, allowing you to be creative with your designs.
For example, you could create multi-coloured concrete blocks for use as walls or create a lively coloured pathway leading to your garden.
No matter your project or design style, coloured concrete is an ideal material that can be used in various locations to achieve your desired effect.