When it comes to comprehensive house slabs installation for a new home or other buildings, clients in Frankston know to call on the experts at Frankston Concreters. We have the knowledge, resources, and experience to complete all types and sizes of concrete house slabs projects. From obtaining the necessary permits and the initial bulk and detailed excavations through the concreting and completing the foundation, we have it all covered for you. Our professional residential concreters bring an innovative approach to our work while maintaining the tried and tested old-school principles.
Whether you are looking for polished floors for a contemporary design look in your kitchen, raft slab for house extension flooring, or waffle pod slabs for your outbuilding, we offer a range of different concrete slab options. Our experts will work with you to pick the right product for your building needs. No matter the size of your project, we offer not only efficiency, speed, and dependability but also a level of simplicity and assurance.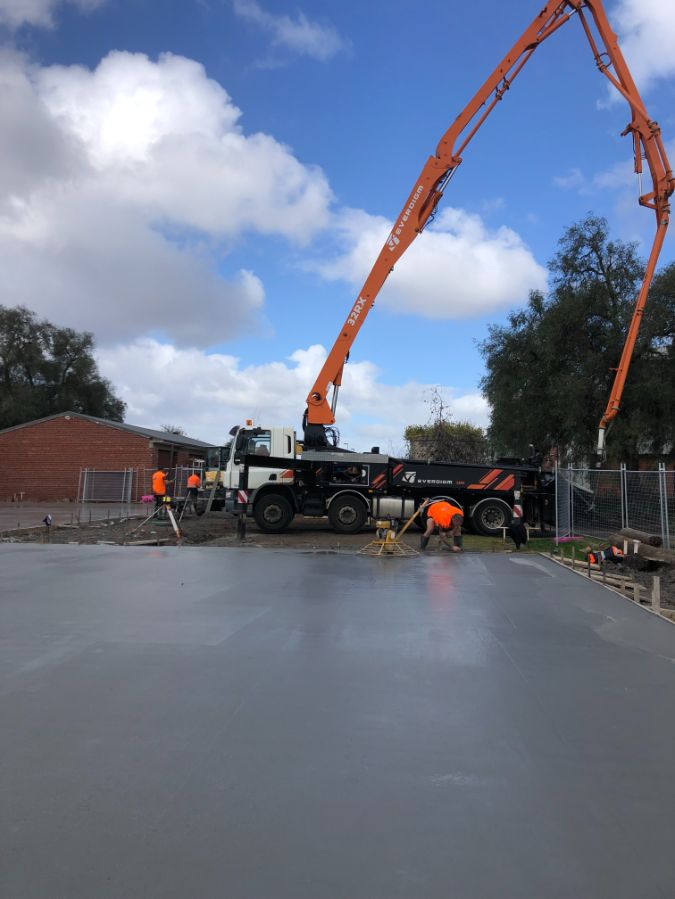 Why Choose Frankston Concreters?
All our Frankston concrete projects are backed by a team of professionals who use proven construction methods and high-quality materials for each project. We have quality assurance checkpoints at each stage of construction to ensure slabs are installed in accordance with Australian Standard AS 2870 and have an excellent finish.
Our dedicated team will offer personalized service and deliver on all promises made to you. You will retain the same licensed and trained team from pre-site construction through completion. We take on a limited number of projects at a time to ensure we can dedicate appropriate time and resources to your project.
Being a small and dynamic team of Frankston Concreters, we are very flexible. In case of an issue during your project, we work with you to find a solution before the stage of construction is completed to eliminate any chances of delays.
Before commencing any project, we provide a detailed project specification tailored to your needs. It allows you to have knowledge of your project throughout the process, and it includes all the inclusions and working plans for your new house slab.
Years of experience have left us well-equipped to understand our clients' concerns during the project. We work hard to ensure our entire process is streamlined and allow unlimited communication with our team for a more enjoyable experience for you.
Call on the Experts at Frankston Concreters
If you are thinking of building a new home or adding an extension to your existing one, it is critical that you get the foundation right. A reliable and sturdy concrete slab foundation will not move, last a very long time, and is impervious to damage from termites and insects. Over the years, our team at Frankston Concreters has delivered projects for many top builders and homeowners in Frankston and can do the same for you.
Call us today to discuss your concreting project and get a free estimate!