Concreters Frankston | Quality Concreting | Concrete Driveways
Frankston Concrete Specialists
Whether you need help with residential or commercial concrete projects, rest assured that our concreters Frankston team have you covered!
If you are looking for a trusted and reliable concreter in Frankston to take care of your concrete needs, look no further than Complete Concrete Frankston and the Impressioncrete team. We are one of the leading concreting companies in Frankston and nearby areas. We understand quality is critical and can add significant value to your home. Our team will work together with you to ensure results that exceed expectations.
In the past decades, our team of Frankston concreters have perfected the art of concreting in both domestic and commercial projects. We specialise in all areas of concreting – from plain concrete for driveways and house slabs to decorative concrete for the entertaining space in the backyard. We understand concrete is a product that is difficult to alter once it is in place; it is the reason why we only hire experts with extensive experience.
When we are installing a new concrete surface, we will guard your property and possessions from any damage. We cover as much area as possible when working and work within the highest safety guidelines. Our team will clean any messes we make at the end of the day and store the equipment safely.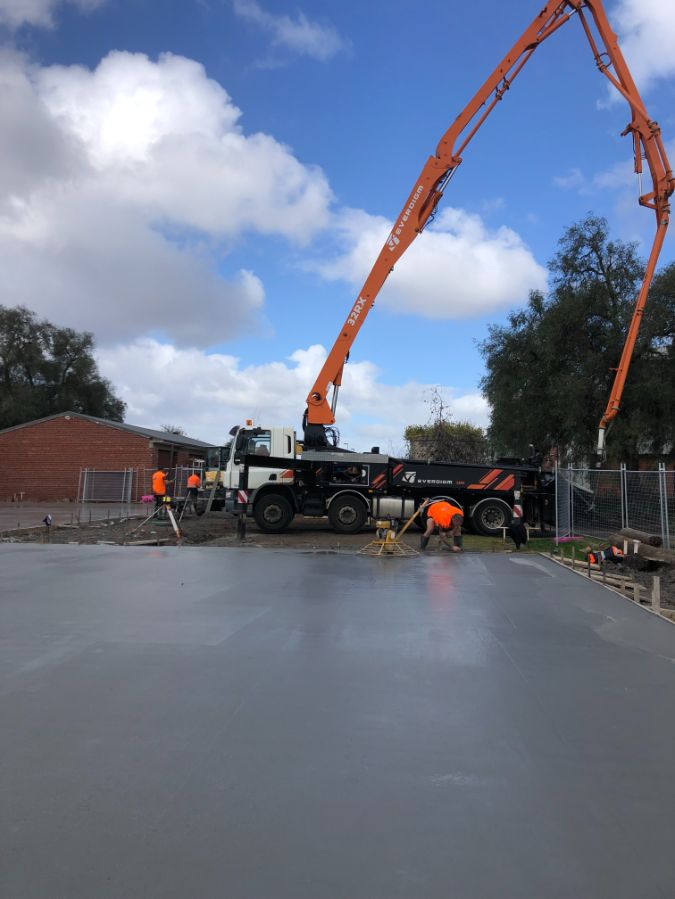 Our Concreting Frankston Services
We offer a wide range of Concrete Services Frankston residential and commercial clients rely on, but our most popular include – 
Do you have a driveway that is uneven and cracked? After a quality Frankston Concreter? Our team of concrete contractors Frankston provide high quality work every time. Ever considered replacing your asphalt driveway with a concrete one? Our concrete experts will transform your dreadful driveway into something beautiful, strong, and low maintenance. We have years of experience in offering concrete applications for residential and commercial projects in Frankston. Whether you are in need of new constructions, remodelling, or repair of existing Concrete Driveway structures, we can work efficiently and quickly, helping you save time and money on your project.
When deciding on the look for your landscape, there are many options to use around the pool deck, patio, driveway, walkways, or front entrance. One of the best alternatives to plain poured concrete or interlocking pavers is exposed aggregate that can add style, colour, and texture to the overall look. It is a type of concrete where the top layer is removed to expose the added aggregate. Our experts are experienced with exposed aggregate installations to ensure your landscaping turns heads for all the right reasons.
When combined with appropriate passive design, concrete slab floors can offer thermal comfort and reduce energy use. We offer a range of house slabs for different uses and land types. We offer slabs for new homes, sheds, garages, and even support for aircon units and pool pumps. Our experience combined with effective scheduling, planning, and supervision allows us to handle all types of house slabs projects while maintaining the quality and punctuality our clients expect from us.
Residential Concreting Frankston
When it's time to replace your old driveway or add a stylish patio slab to your home, we bring the highest standard of concrete services to every custom-designed residential concrete job. As a residential client, you greatly benefit from the expertise, skills, and experience of a professional Concreter Frankston company that works efficiently and quickly. We help you save time and money while providing you with the best finish possible.  Regardless of the finish you want, exposed aggregate, plain or stamped concrete, our team can help all while minimising cracks.
After years of concreting Frankston, we have the best team, resources, and work practices to get your residential concrete project done efficiently, cost-effectively, and with minimal disruption to your daily routine. Our experts can work to your budget and vision with solutions needed to achieve the look you are looking for. 
Here is a list of what we do as residential concrete contractors in Frankston South vic and how we can improve the convenience, safety, and enjoyment of your home –
Whether you wish to enhance your property with an attractive footpath or want a new driveway, we are ready to help. You are going to love the unlimited design options available to all our customers. If you can dream it, we can build it! 
Complete Concrete Frankston offers a variety of concrete services to industries found throughout Frankston. The commercial concrete job requires an in-depth knowledge of the industry and commitment to completion schedule to ensure efficient use of their space. We will work with you every step of the way – right from the planning till the job is finished. We demand safe worksites that protect our team and your bottom line, all while being committed to the project being completed on time which helps save you time and money.
We understand every industry has its own particular demands to stay up to code, and we work diligently to ensure every detail is exceptional for your concrete project. We not only provide quality workmanship but also work quickly to turn over completed projects to businesses quickly. No matter the size of the job, we have an experienced Frankston Concrete team on standby, ready to get to work quickly. We service suburbs right down the peninsula, so whether you need concreters in Somerville, Mount Eliza, Keysborough, or all the way down to Balnarring, we're the team for you.

Our concrete contractors frankston vic team works with clients in many different industries to ensure operational efficiency, safety, sustainability, quality, and guest satisfaction. You can find us everywhere where it really matters, including
Whether you need a simple finish or a more extensive design for your commercial space, paving stencil concrete driveway, slate impressions spray, or exposed aggregate concrete, expansion joints,  and anything to do with cement and concrete, we have the manpower, equipment, and technology to get the job right the first time. It will ensure many years of nearly maintenance-free use. We can even handle polished concrete projects. 
Different Types of Concrete Finishes
With advancements in designs and mechanics, concrete has come a long way. Gone are the days when concrete was simple and uninteresting; today, decorative Concrete Finishes can easily become a gleaming point for homes and businesses.
Our team of Frankston concreters offer some unique concrete finishes that can work beautifully outside the home or business as well as inside.
Polished concrete refers to the concrete slab that is polished down to a shiny finish. These high lustre flooring, when done correctly, do not need any wax or sealer, making it a great option for places that need low-maintenance floorings, such as homes, warehouses, and even retail stores. Many of our clients also use polished concrete as a design feature because of its uniqueness and customizable options.
Concrete in its natural state offers a bland aesthetic that does not always meet design needs. We offer a variety of coloured concrete products to create dynamic modern contrasts or restrained, timeless looks. Whether you are looking to replicate the rustic tones of stone or slate or the Mediterranean feel of terra-cotta, or the warm coastal look of sandstone, we can create some amazing looks.
Stamped concrete is another decorative concrete finish option that allows you to add visual interest to an area. It involves stamping a texture or pattern on freshly laid concrete using rubber mats. We offer concrete stamps in many different designs and use colour stains to make them look like other building materials such as brick, stone, tile, and others. Common stamped floors are used to produce slip-resistant surfaces on outside areas like the flat walking driveways or footpaths, shed floors, garages, or outside entertainment areas.
While stencil concrete finishes are common on driveways, they are also widely used around the pool, patios, footpaths, entrance ways, and other places. Stencilled concrete is similar to stamped concrete, but the only difference being that here disposable paper stencils are used to print the patterns instead of rubber mats. Our range of stencil concrete can easily be used to reproduce paver, brick, and cobblestone appearance at a much lower cost than traditional methods allowing for stunning residential and commercial landscapes.
Pave cut concrete is becoming quite popular because of its paver and slate look. To achieve an impressive finish, plain or coloured concrete is cut using a diamond to give it a paved appearance. It is the perfect solution for anyone looking for the paver look but does not want to spend too much. It is one of the favourite designs for pathways, driveways, and other concrete surfaces.
There are so many different options for you, and sometimes it can be quite confusing. If you have any questions about the different options available for your home or business, get in touch with us and speak to one of our concrete experts.  
Choosing a Frankston Concreter – Why Are We the Right Fit?
Suburbs our concreters service
Frankston Concrete offers a comprehensive line of concrete services to our clients located in the following Frankston suburbs – 
If you do not see your suburb in the list above, make sure to give us a call. Depending on your project and the distance from Frankston, our team is always entertaining projects outside our designated service area. 
Need Help Planning Your Next Concrete Project?
The combination of our quality workmanship, high standards, and competitive prices ensures our services are in constant demand across Frankston. No matter how many quotes you plan to obtain for your concrete project, do not make a decision before you get in touch with us. 
Our team at Frankston Concreters is committed to providing our customers, whether they are interested in decorative driveways, aggregate footpaths, or a plain garage area, with professional service at the best prices. We eliminate stress and worry with constant communication and commitment to meeting our schedule. 
Contact us today if you need assistance on your next concrete project. Our experts will visit your site, discuss the different options and help you pick the  solution to provide a fixed price quotation.
Book a free inspection today and see why so many people trust us with their concrete projects!